As the weeks have stretched into one another, and many countries reach different stages in their lockdown journeys, it is becoming increasingly clear how reliant we are on many forms of media, and how embedded it is in the fabric of our existence.
Prior to COVID-19, you could still read debates on whether social media was good or evil, whether TV was rotting children's brains, whether gaming was making them violent as if we had a choice in their presence in our lives.
What has become clear, in this strange new world, is that we do not. Instead, what we are seeing are the different ways in which our relationship with core media platforms and technologies are transforming as our needs and relationships do; the ways in which some potentials are becoming reality, and some fears are melting away.
To explore this we have looked at the very thing we want to probe the media both as subject and source for this study. Into our platform, we put blogs, magazines, cultural sites and social media, all relating to the present and future of media consumption.
What has come out is a fascinating picture of how the media landscape is fragmenting even as it becomes more essential. We have pulled together a snapshot of the different ways people are using media technologies.
Obviously your relationship and access differs massively depending on your circumstances, but for some, media are tools to just keep going, whereas others are using it to progress their lives, do something productive, or create something new.
A snapshot, because 'media' is one of the fastest evolving and most broadly encompassing categories we want to capture it in this moment, before it flies away…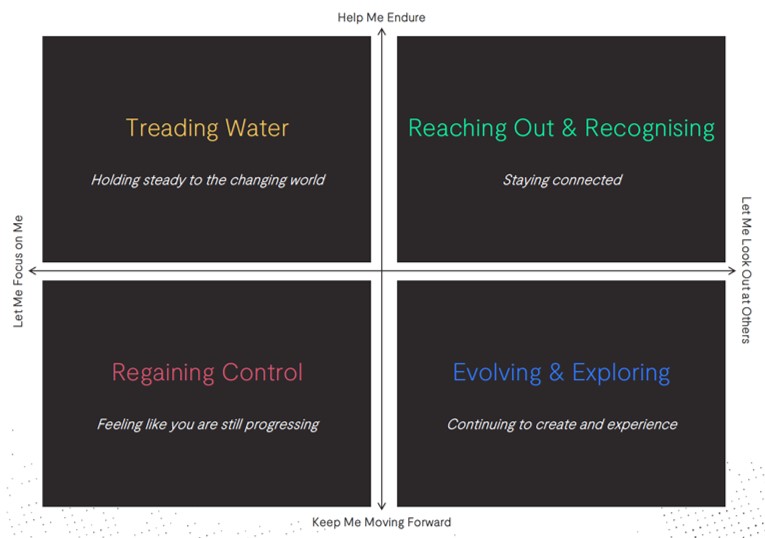 Treading Water
With so many claims on time and attention, media technologies becomes a lifeline a way of holding steady the altered circumstances many find themselves in whilst waiting for this 'new normal' to kick in.
Reaching Out & Recognising
As everyone is restricted to their own bubbles, social media becomes a place to reach out to others, and reassure yourself that they're going through the same thing that you're not alone.
Regaining Control
For those who need to constantly feel like they are being productive, in a situation which is calling for everyone to stop, media can create ways to feel like you're progressing whether this is actual or illusory.
Evolving & Exploring
There are those fortunate enough to find in lockdown new ways to create and explore not just replicating the old, but finding new ways to play with media that would genuinely not exist pre lockdown.
Click here to read the report in full.
We're still in a state of flux and it's unwise to definitively predict which of these new media habits will persist as lockdown eases, and what life will look like on the other side.
Having all the time in the world to indulge in media content, will we emerge from confinement with a need to feel and taste and touch will the experience economy return with a vengeance? Or will some find they have a stronger affection for media technologies and content than before, as a true if intangible essential in a bizarre time?
Whatever happens, one positive story for media in its many forms is its shift from time hungry villain to the caring hero, keeping us connected and helping us hold steady to the changing world. It can give us respite from dark realities, but is also there to support us when we want to face the world and continue to create, build
and explore.
We hope as you read this, on whatever type of screen, at whatever time of day, through whatever media portal, you are finding ways to take care of yourself, and ways to inspire yourself whatever shape that may take.