The discover.ai team have just got back from a great couple of days in Amsterdam at the IIeX Europe conference. It's a little different from other market research industry conferences and focused at the most innovative/tech end of the sector, show-casing some interesting new start-ups and research approaches.
We were delighted to be one of the finalists in the IIeX Innovation Competition and, whilst we were pipped to the post and didn't win, it was a great experience (5 minutes to pitch and 5 mins of Q&A by a judging panel – a real Dragon's Den moment!). We were thrilled to make it that far and to spread the word about the great and innovative work we're doing at discover.ai
Beyond this, there were three key observations we made during the course of the conference:
1) There's a lot of innovation going on. It was exciting to see that there's lots of experimentation and novel applications, using technology in different ways. Unlike a typical market research conference (and much more like a tech event) it was interesting to meet a number of very early - sometimes pre-revenue - start-ups, and reassuring that some were more than just 'cool' technology, as can often be the case, but seemed to be offering a potentially viable solution that solves real business issues. It is a reminder that the industry is becoming increasingly complex and fragmented.
2) Despite the technological advances, the researcher's ability to add insight retains its primacy. Most of the exhibitors were centred around i) video and image related applications ii) super-fast and simplified/standardised quant iii) big data analytics. All quite different applications of AI technology, but what we noticed was that the general consensus seemed to be in tune with our own firm view - that the best solutions are a combination of AI and human insight.
3) A lot of presenters were talking about the 'trifecta' of increased speed, lower cost and better quality. 2 out of the 3 is not workable: increased speed and quality, but at too greater cost to be viable on any regular project basis, doesn't work. Nor does fast and cheap, if quality is actually compromised. All three need to be achieved to be successful in an AI powered insight world.
We also very much enjoyed the pop-up painting stand. What could more wonderfully illustrate discover.ai's mantra of technology making us more human, than to be painting and a high-tech market research event!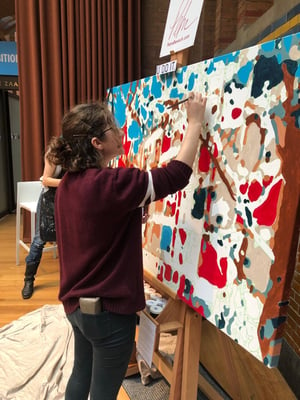 If you're interested in finding out more about AI and the insight work we do, then get in touch with us at Discover.ai.